Discover the inspiration behind the workwear brand
We are back with a brand new 'Meet the Maker'. This week we sat down with Claire from Fieldware Co to discuss the makings of her brand and the craftsmanship that goes into each and every Fieldwear Co product.
SGB: Let's start at the very beginning, what inspired you to first start Fieldware?
Claire: We all have a love of the outdoors, especially gardening. We noticed that there weren't many beautiful handcrafted, simply designed aprons on the market, especially not made from the fantastic material that is waxed cotton. We knew that everything we used from the material to the thread, buttons through to the packaging we use should all be sourced in Britain, which was very important to us. So we set about testing the material, trying different styles and started with what is probably our biggest seller, our original medium full bib apron. After our launch we soon realised that the aprons were popular with a huge array of fields, potters, chefs, bakers and so many more so back to the drawing board and lots more research and development and we have now what is a growing range of both waxed cotton and linen products.
SGB: What did it take for you to move from these inspirations to a fully rounded brand?
Claire: The process for us was relatively fast as Tracey who is a joint director is an incredibly talented designer and maker so initial samples were quickly produced and any areas that needed adjustment were amended which made the process super speedy. We are also very lucky to know a brilliant design agency that created our brand and website which of course is imperative. My husband runs Briggs & Co Design, a graphic design company, so that was a massive weight off our shoulders to have that part of the business taken care of.
SGB: Were there any struggles along the way to become Fieldware co?
Claire: No start-up can say they don't have any struggles and we were no different. It's very well having great products and a fantastic brand as that helps you be taken seriously but that's just where the hard work starts. We worked our socks off in the first year, heading to markets at the crack of dawn (we are a great fan of Frome independent) emailing potential stockists and just doing everything we could to get the word out there. Probably the hardest part is the financial side of things. Upfront costs were huge as everything we use is the best quality so you have to pay for that initially before you've ever sold anything. Just balancing money in and out required a whole new set of skills but has been a brilliant learning curve. It's very easy in the early days to say yes to anyone and everything just to get noticed but you soon realise that this can lead you down roads that maybe weren't the route you wanted to take. You have to be tough and stick to your ethos.
SGB: Why workwear and utility in particular?
Claire: I've always had a love of simple yet beautiful designs. Those practical items that you really want to wear/use every day that not only look great but also last for years.
SGB: Why is handcrafted important to you?
Claire: We are used to fast and cheap be it food, clothing etc and I do feel that there is a movement that is returning to the handmade. All those fantastic words - care, quality, passion, artisan, handcrafted. Using the skills that are on our doorstep, employing local people. Yes, it is more expensive, yes it takes longer to craft but at the end of the day we are proud of the products that we send to our customers and we know that they have been made properly with thought.
SGB: What do you think handcrafted adds to your products and how do you think this impacts your customer?
Claire: A huge impact - our customers expect quality and knowing that care and attention to detail has been used in creating each design just reinforces everything that we stand for.
SGB: What are the main design influences of Fieldware? What do you think these influences add to your overall product range?
Claire: Simplicity - we don't copy anything we just take a product and if we can simplify it and make it even more practical then we will - but we are always keeping an eye on the design!
SGB: Can you talk us through the design and manufacturing process of your products?
Claire: Initially, we will sketch our ideas discussing the use of it, who the customer will be. Then we will get into more detail, leather, rivets etc. We'll then create a sample, which is always made out of waxed cotton or linen it is at this point that we learn whether it'll work. Once the design has been firmed up and a pattern created we will discuss with our team of seamstresses how we want them to be made.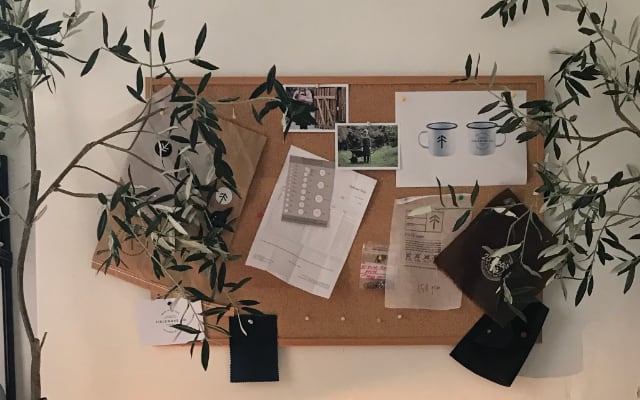 SGB: What is your favourite part of the making process?
Claire: Tracey would say the initial part of creating a product as that's when you can really have fun creatively, I would say the final part when the product has been finalised and can be photographed - that's when I know we are close to launching it.
SGB: At SGB, we're all about longevity and quality materials, what can you tell us about your selected materials? And perhaps the thoughts behind your choice of waxed cotton?
Claire: The waxed cotton that we use to craft our products is sourced from the British mills of Halley Stevensons who for the last 150 years have made a name for themselves in waxed cotton innovation. They use responsibly sourced cotton and low impact manufacturing with processes that are gentle to the product and low impact to the environment. Their dyeing methods use very low levels of water as the waxes are simply heated for the application and cooled to be stored when not in use, meaning no waste discharges.
The beauty of waxed cotton is its durability and longevity - it is built to last.
The densely woven cotton is strong and reliable and unlike many alternatives, can be maintained by you, the customer. The fabrics are also naturally breathable, this means the wax adjusts to ambient temperature, becoming softer and more breathable in warm weather and stiffer and more windproof in colder conditions, so it is perfectly suited to the outdoors. Waxed cotton products also have a unique character. The various finishes that we choose for our Fieldware range ensure that garments look better with age as the wax naturally picks up marks and creases through use, which adds to the character of the fabric itself.
SGB: Which of your products are you most proud of and why?
Claire: This is a hard one as every single product has been created because we felt it was required. If I had to, I'd say our original medium full bibs as they were our very first product.
SGB: How is sustainability implemented within your brand?
Claire: 3 words - profit, people, plant and we consciously think about these in all our processes. From the material - making sure it can be sent to us with minimal impact on the environment, the packaging we use - biodegradable mailers and the people we employ - talented local artisans in and around Taunton.
SGB: What impact do you think being British made has on your products and your brand as a whole?
Claire: A huge impact - our customers have told us that this is one of the main reasons that they shop with us.
SGB: Is there anything exciting in the pipeline for Fieldware Co?
Claire: Where do I start? Jackets, shirts, pinafores. A new range of dog accessories and also foraging bags/rucksacks. Sketches are being created as we speak - there will be some exciting product launches in 2022.