A Brief History of

WAXED COTTON
Ancient mariner and British innovation
Fish Oil, Flax and Fishermen
One of the oldest fabrics that is still in use today and in fact has had a renaissance in recent years is the noble waxed cotton or waxed canvas as it is sometimes called.
Although it is more than likely seen in town and country sported on jackets and bags, waxed cotton started its life on the wild open seas. Its birth comes from the ancient mariners who fought the Northern waters around Britain. They noticed that their sails, which were originally made of flax, worked more efficiently when wet rather than dry. The downside of wet sails though was they became heavy and still slowed them down, so to start with they simply dampened them which worked until out in a storm and the sea and rain made them heavy again.
In the 15 th century it is believed that Scottish sailors started to rub fish oils and grease onto the sailcloth to 'waterproof' them. Which was the first version of waxed cotton or oiled flax as it was known. This process created the desired efficient sails in dry weather and lighter sails in wet weather.
The next stage on the development of waxed cotton began when those same sailors started to add linseed oil to the flax sails, which was a huge improvement on fish oil and grease (and not just the smell). The off cuts from the sails were often made into crude smocks the forerunner to Fisherman's Slickers. The downside of the linseed oil was that it yellowed with age, which is why, to this day, fisherman's slickers are still traditionally yellow. But these crude smocks were a god send to fishermen. Keeping them dryer and warmer, meaning they could stay out at sea for longer and thus catch larger hauls.
In 1795, Francis Webster a mill in Arbroath, Scotland perfected the process of adding linseed oil to flax, which was a revelation. But as the British Empire grew and competition to bring goods back from the far-flung corners of the earth quicker intensified, Tea Clippers found the flax and linseed oil sails too heavy. The Discovery that still sits in Dundee's port today is a beautiful example of one of these Tea Clippers. Luckily the Egyptian cotton that was being brought back to these shores made a lighter alternative to flax. This 2-ply cotton was not only stronger, could make larger sails but also took the linseed better. The Francis Webster's cotton was immediately adopted by the British Royal Navy and Tea Clippers, giving them a seafaring advantage over its adversaries. But still linseed oil itself had a few problems, it cracked in cold conditions thus eventually losing its water proof properties.
A new solution was required to overcome this cracking. In step British Millerain, an established cotton finishing company who began in 1880. They experimented with many different techniques to create the perfect waxed cotton. Their solution was paraffin-based where they impregnated the cotton with paraffin. This not only improved weather-resistance but added breathability.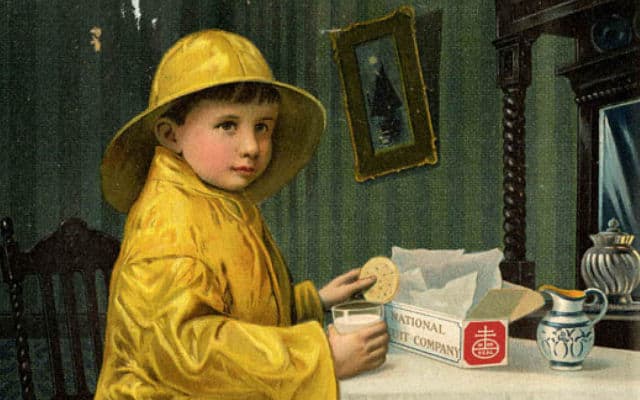 This new process created a new fabric that added breathability, which meant that apparel could now be made that were flexible and comfortable to wear. Francis Webster realised how revolutionary this treatment was and began sending their woven and dyed cotton to British Millerian for finishing, making the world's first on demand supply of paraffin-based waxed cotton clothing. Francis Webster first took the treated cotton back and shipped almost all of the wax cotton to New Zealand, waxed cotton being the perfect fabric for sheep farmers' apparel. After huge success in New Zealand Francis Webster introduced the fabric into Britain. Where waxed cotton clothing quickly became a popular choice for Motor cyclists, country attire and workers of the land. And has been the bedrock that has made many British brands famous the world over. It was also adopted as the first-choice waterproof clothing for the British armed forces during World War II
Waxed cotton as we know it today is no longer paraffin based. It is impregnated with refined hydrocarbon wax and was developed to replace the cupro-ammonia wax treatment that was developed in the 1920's. The advantage of using the newer refined wax is the removal of the smell associated with traditional waxed cotton. So you can generally tell if a jacket was made before 2005 by the smell.
Waxed cotton does need care and attention to keep it waterproof. You should never try and dry it quickly but let it dry naturally. It is recommended in waxing every few years. This should be done during the summer months when the fabric is at its driest. But one of waxed cottons true advantages is that you can simply wipe it clean. That is why they make great jackets, aprons and bags.
British Made Waxed Cotton
At Sir Gordon Bennett we are huge fans of waxed cotton, not only does it look great, it is a great British invention that the world has taken to heart. It defines the British countryside with its classic look.
Below you can find some British made waxed cotton garments from Oxford Blue and Fieldware Co who are also passionate about waxed cotton.