As Plato wrote 'Our need will be the real creator' or as the Anglicised adage goes 'Necessity is the mother of invention.' And the need in the late 50's was fuel. Britain had bungled the Suez Crisis and British car manufacturers were seeing a real need for economical cars for the masses. Fiat launched the 500, which was just as influential on Italian culture as the introduction of the timeless British design icon, the Mini.
The British Motor Company (BMC), which Sir Leonard Lord was presiding over wanted to create a car that was not only a panacea to the Suez fuel crisis but the whole of the British vehicle industry crisis. The oil embargo was sending fuel prices soaring and fuel rationing was in place. Restricting British motorists to only four gallons per week. As such British motorists were turning to 'Bubble Cars' which were mainly imported from Germany from manufacturers such as Messerschmitt.
Leonard Lord hated these bubble cars and thought them uncomfortable, unsafe and noisy; which they were. He called for his top engineer. Alec Issigonis to drop everything and "Drive the bloody awful bubble cars off the road". Issigonis was joined by Jack Daniels and Chris Kingham and apparently a handful of engineer students to create a car to tackle all of the issues of the day. Leonard Lord was very didactic on what he wanted. No longer than 10 feet long and all the fours; four feet wide, four feet high, four-stroke, four-cylinder engine, four wheels and four seats.
Legend has it that Issigonis drew the original Mini on the back of a napkin. He then put four chairs on the floor and drew the floor plan of the Mini in chalk. Issigonis once said "The public do not know what they want, it is my job to tell them". (not quite as pithy and humorous as Henry Ford's "If I had asked what people wanted they would have asked for faster horses" but similar)
The true genius of the iconic Mini is that Issigonis transversed both the engine and the gearbox. This meant that he could squeeze another 18 inches of space into the cabin, which meant that 80% of the car's room was given over to passengers and their luggage. Clever design, such as a bottom hinged boot meant that the car could be driven with its boot open, meaning larger item could be carried. 10-inch tyres were designed especially by Dunlop which meant that the wheel arches could be smaller too.
The first Minis were without radios, seatbelts and roll-down windows (although this is seen as part of their charm now, it was originally a cost saving exercise). The sliding windows not only help save money it helped with elbow room as the doors only needed to be single skinned. A storage space was fitted into each door, that as legend has it was just big enough to carry the correct proportions of Issigonis' favourite drink a Dry Martini, one bottle of vermouth and two bottles of Gordon's Gin.
In July of 1957 Leonard Lord took the Mini or project ADO15 for a test drive around the Longbridge complex. On getting out he ordered "Build the bloody thing!" (bloody seeming to be his favourite word).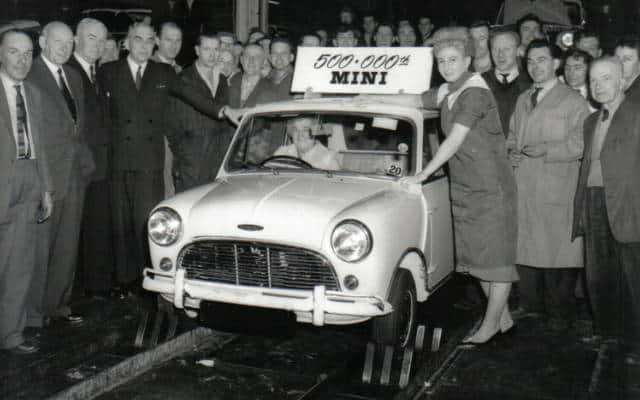 The Mini takes on the world
The Orange Box, as it was affectionately known.  Due to its original colour during the prototype stage was ready to be released onto an unsuspecting world in 1959. And it is safe to say it wasn't an immediate hit. Hard to think now, as over 5.3 million have been sold. But that first year the general public really didn't know what to make of the tiny car. But it didn't take long for the public to come around to the radical four-seater. The Mini was such fun to drive, was economical and that only cost 500 GBP. It may have been that the car was confusingly launched as two cars, The Austin Seven and the Morris Mini Minor. The Austin Seven was eventually renamed the Austin Mini in 1972. But by 1965 over 1 million Minis had been sold globally.
John Cooper and the MINI Cooper S
Part of its phenomenal success must also go to John Cooper of the John Cooper Car Company. He could see the remarkable Mini as a racing icon too. He realised its low stance, incredible handling and nimble disposition could be transferred into a sports car that could become a world beater. Issigonis was sceptical about turning his perfect little family car into a sports car. And was rather hesitant to work with his friend John Cooper. Yet in September 1961 the Mini Cooper roared into the world with a larger tuned engine and double carburettors that were designed to meet the Group 2 rally car criteria.
But it was the Mini Cooper S that really became a giant killer. From 1964-67 it took on the big boys at the winter Monte Carlo rally and finished top of the podium on all occasions. Apart from 1965, where the Mini Cooper S came in 1st, 2nd & 3rd.  But all were disqualified thanks to a dubious decision on regulation failure for headlights. This was not to set the Mini back though, as it became the most successful racing car of the 1960s. With some of the world's greatest drivers starting off in a Mini. These include such luminaries as Niki Lauda, Jackie Stewart, Graham Hill and James Hunt.
The Mini really is a design classic in every sense of the word. Instantly recognisable, timeless aesthetic value, strikingly simple, desirable and oft imitated. It has found itself as the go to car for the great and the good.
It wasn't simply part of Pop Culture, the Mini defined it. The 1960s saw each of the Beatles enjoying a Mini. With Paul McCartney's Mini Cooper S De Ville featured in Magical Mystery Tour film. Ringo Stars' Mini was sold to Geri Halliwell. Whilst apparently George Harrisons' is still owned by his wife. Twiggy's first car was of course a Mini.
But what probably what catapulted the Mini to great heights was the film The Italian Job with Michael Caine. Fiat offered the producers as many Fiat 500s as they needed to be in the film but they opted for the Mini, and the rest is history. With Princess Grace of Monaco, King Hussein of Jordan and Prince Charles all previous owners it certainly has Royal stamp of approval too. The 'King of Cool' Steve McQueen owned one too, it was said that you were not a star unless you owned both a Ferrari and a Mini.
The Mini has had salad days and down days throughout its 60-year history. Maybe its darkest days were when Mr Bean's writers thought that he should drive a Mini. Around this time it dropped out of the top 10 list of best cars and iconic designs. The demise was hard but there was one company who believed in its cool past and in a bright future, BMW. The Bayerische Motoren Werke had the marketing know how to revitalise such an iconic brand. Although it has to be said a Mini is not really a mini now as its footprint is the size of a normal car. But they knew that its baggage was its sales pitch. They didn't need to create cool, they just needed to remind people how cool it is.