Wales Perfumery

INTERVIEW
A journey through scent inspired by the Welsh landscape
This week we sat down with Louise Smith the founder and head perfumer at Wales Perfumery, the only niche perfume house in Wales. A journey inspired by the Welsh landscape.
SGB: Hello Louise, first of all, how did Wales Perfumery come about?
Louise: I always knew I wanted to set up my own perfumery and after training I took the plunge and set up, I made that sound easy.... there were many hurdles to overcome before I reached the perfumery stage, however I was determined.
SGB: Did you always have a fascination with scent?
Louise: Ever since I was a child I had the dream of opening a perfume shop. I would pretend play shops with my Sister, my Dad built a counter and shelves, we would have my Mums old perfume bottles and empty make up container's to sell. I would play for hours at my Grandmothers mid century dressing table smelling everything from perfumes, to lipsticks and face powders, oh how I loved the smell of lipsticks, waxy, violet scented. Beautiful!
SGB: This maybe a long question but how did you become a perfumer?
Louise: My fascination started as a child, in school Chemistry was my favourite subject although i had not made that link between Chemistry and Perfumery. There was nowhere to Google "how to become a Perfumer" I remember going to my local library looking for perfumery books, I went to Hay-On-Wye the town of books to search for anything to do with Perfumery. When I first moved to Cardiff I had applied for a "Sunday job" with Lancome and I was immersed in my perfume bubble every Sunday. My studies took me down a different road into the world of the Dental industry, I worked for a large Pharmaceutical company where I was an Expert Relations Manager dealing with Dental School's and Universities, supporting clinical trials, students programmes and liaising with Professors and Consultants. One day in 2012 I picked up a chemistry magazine and it had an article on Perfumery, I was hooked. I was finally also able to google perfumery, I found a Perfumer in Paris and off I went to train, it sounds glamorous however it was 45 degrees it was boiling!! Since training in Paris I have also trained in Italy & London with the lovely Sarah McCartney. Every day is a training day, new materials and new ways to get to know the materials. I love it!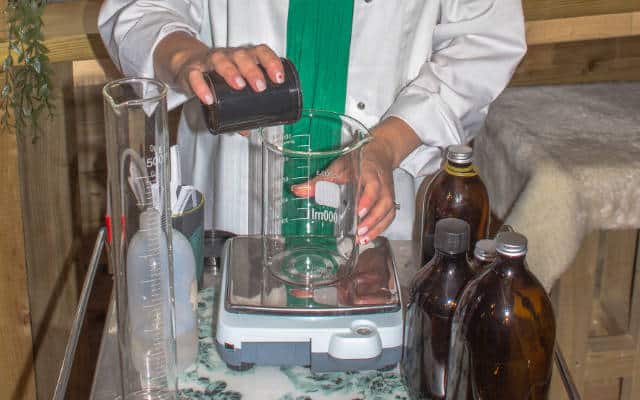 SGB: Does Wales Perfumery have a 'house' style?
Louise: Handcrafted perfumery with a respect for the past and an innovative approach to an old aged art. We just don't make fragrances we craft them.
SGB: Can you describe Wales Perfumery in 3 words?
Louise: Handcrafted Tradition Innovative
SGB: How do you come up with the initial ideas for new fragrances?
Louise: Scent is everywhere, when I go on a walk I make notes about the different scents I can smell. Coast - Arfordir was probably the quickest formula for me to create, living close to the sea in Pembrokeshire I had all those scented memories stored, the smell of rock pools, seaweed, sandy beaches and the water. Forest - Coedwig was created from the scent memories I have with my Mum & Dad walking through our favourite woods as a child and also elements of our own secret walled garden here in The Wye Valley with the varieties of fruit trees including many apple trees. Country- Gwlad, I grew up in the countryside, rolling green fields, similar to where we live now, Country has many green notes, also Narcissus (Daffodil in Wales) and a Gardenia note as a nod to my Grandmother who loved Gardenia fragrances in the 1930's & 40's. My ideas as are endless, sometimes it's hard not to think of the world through scent.
SGB: Can you succinctly describe the process of creating a niche perfume?
Louise: The initial ideas have been drafted and then I start designing with materials, using notes (perfumery term for a material). Patience is key, lots of drafts, lots of trials and once all materials are balanced and harmonious I can then submit my paperwork to a cosmetic chemist to ensure that it is safe to use on your skin, then I apply to IFRA (International Fragrance Regulatory Authority) and receive a compliance certificate, finally uploading to the European portal.... once the admin work has been complete which can be time consuming I then start to formulate. Handcrafting each formula with my raw materials, this is called maceration and we leave this blend together, the next stage is adding ethanol and we use an organic grade ethanol, once the ethanol is added it then sits to macerate and age. We (I say we its only my Husband that helps) then hand bottle, hand label, hand box, hand pack and hand post. I love that part, the long process seems worth it knowing that the post will arrive to someone who wants to smell the fragrance and wear it, very special.
SGB: Is there a part of the process you enjoy the most?
Louise: Formulating a new fragrance, sketching ideas, I love it. Although I do enjoy every step and knowing that I'm involved at every stage is important to me.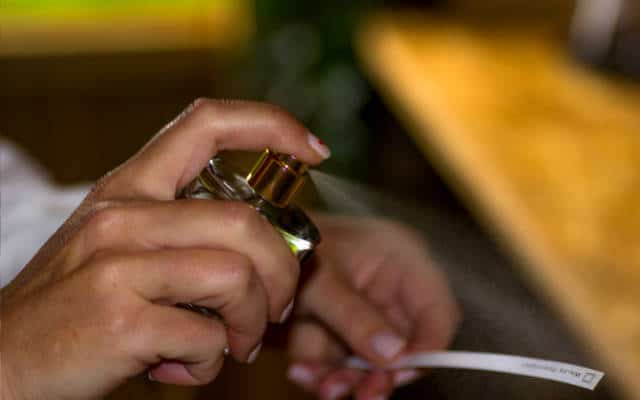 SGB: Quality is important to SGB in everything we purvey, what makes Wales Perfumery special?
Louise: We are independent, we don't have to answer to huge corporate creative directors, in house teams of people telling you what fragrance to create and budget to stick to. We are able to use the best quality, sustainably sourced materials to handcraft in small batches. We are passionate about waste and recycle everything and our packaging is fully recyclable and all of our bottles and packaging are sourced from UK businesses.
SGB: Niche perfumes seem to be growing in popularity, is there a reason for this?
Louise: It's the revival of the golden age of perfumery principles, using good quality materials in simpler packaging focusing on creativity. Knowing that it has been handcrafted by someone that is hugely passionate and respectful to the art of Perfumery. Customers can also come and take a look around the lab and ask me any questions.
SGB: Can you tell SGB about the workshop/perfumery you craft your fragrances in?
Louise: We are situated within our amazing 500 year old Secret Walled Garden in the beautiful Wye valley Monmouth. The perfumery has a mixture of antiques and traditional chemistry equipment with views over our walled garden we often see squirrels, rabbits, wood peckers, herons and a few ducks that occasionally escape from the farm down the lane. It is peaceful and I can get lost in the process of creating not realise how much time has passed. My lab also runs as a workshop where people can come along to one of my perfumery or candle making experiences, so its very important that I am organised & tidy!
SGB: Scent is such a personal thing, do you have any advice on how to buy perfume that suits an individual?
Louise: Yes spray a fragrance and see how it develops on your skin, also try different fragrances, don't just stick to what you have worn for the past 20 years, there are so many lovely niche fragrances out there, have fun searching and trying.
SGB: Apart from your own fragrances do you have a favourite niche perfume you wish you had created?
Louise: Andy Tauers L'Air Du Desert Marocain its beautiful.
SGB: What do you see for the future of niche fragrances?
Louise: Growing!! the market for Niche fragrances is the fastest growing market segment. Customers are looking to purchase handcrafted artisanal perfumes, knowing where they have come from and how they were produced.
SGB: Is there anything exciting on the horizon for Wales Perfumery that you can let SGB in on?
Louise: In 2022 we launched our first 3 fragrances based on the Welsh landscape, we have more plans to expand and add to this collection in line with our traditions. Look out for more news in 2023.
Until then you can explore the current range of Eau de Parfum inspired by the lush landscape of Wales. Simply click the links below.