Redolescent Perfumes

INTERVIEW
The journey of Kyle Fearn and his beautiful brand Redolescent
This week we sat down with the Kyle Fearn the founder and head perfumer at Redolescent Perfumes. A very personal journey through chemistry and scent.
SGB: Hello Kyle, first of all, how did Redolescent come about?
Kyle: Redolescent was born of the idea of using a scent to tell a story or evoke a memory. The name itself coming from redolent and scent. I wanted 'more' from the fragrances I was seeing on the high street. They smelled nice, but superficial. I wanted something that I could connect with - it was something I wore to accompany me throughout the day, something which would be there in the background at formative moments in my life. It was 'only perfume' but it felt like it should be more than that. I couldn't find it, so I decided to try and create it!
SGB: Did you always have a fascination with scent?
Kyle: As a child I remember my grandma having a lavender bush next to the gate to her garden. I would run my hand through it when I arrived to see her after school, so the smell of lavender always reminds me of her! I think everyone has scent memories, little moments which go straight to the heart, and they're so wonderfully unique to you! My interest in scent developed more as I studied Chemistry at university. My partner was due to travel to Japan for a year for study and I wanted to gift something special as a reminder of home. That's when the investigation and real exploration of fragrance began! The scientist in me was intrigued by how perfumes are made, what is actually in them? Around this time I discovered the niche brand Zoologist too, which completely transformed my perception of what a perfume could be. Couple all of that with the feeling of the high street fragrances being a bit 'shallow' and you have a sort of perfect storm which set me on the path through to today!
SGB:This maybe a long question but how did you become a perfumier?
Kyle: I started back in 2016. As a graduate I applied to one of the big perfume schools in France, only to be rejected because I hadn't completed by Masters Degree at that time. With true Northern grit, I decided that I wouldn't take no for an answer, and started researching how to do it anyway! I bought my first set of materials in 2016 and spent hours reading, studying old perfume textbooks, and lots of trial and error! I was fortunate to meet and connect with a number of other 'indie perfumers' who had self-taught too. I had found my community! A lot of time was spent learning my materials, how they behave, and how they interact with each other. The first thing that I would call a perfume didn't emerge until late 2020. Even then, I had much to learn about how to bring a perfume to market. It would be amiss not to mention the wonderful Sarah McCartney at 4160 Tuesdays (who is also stocked with Sir Gordon Bennett). She has been a constant confidant, supporter, teacher, inspiration, and friend - not only to me, but to many. She taught me that it was possible to turn a crazy dream, naïve confidence, and northern grit into something real!
SGB: Does Redolescent have a 'house' style?
Kyle:That's an interesting question, and something that I think is hard to answer from the inside! I try and ensure that quality and attention to detail runs through the veins of Redolescent. Perfume wise, I let the story of the fragrance drive the style and the narrative.
SGB: Can you describe Redolescent in 3 words?
Kyle: Handcrafted narrative art
SGB: How do you come up with the initial ideas for new fragrances?
Kyle: They often catch me off guard! I'm story driven when it comes to my fragrances, so it could be a fleeting moment in life which 'just makes sense' in my head as a perfume. Merge, for example, was from a walk on the beach at sunset where the sky and sea were both indistinguishable from each other and seemed to blend seamlessly. I was intrigued by the idea of capturing that feeling in the form of a fragrance. There are big themes I would like to explore, too, what does Saturn smell like? How about the Pantheon of Greek Gods? Fictional places or people?
SGB: Can you succinctly describe the process of creating a niche perfume?
Kyle: For me, personally, the story comes first. I'm not creating to catch trends or hit a marketing brief. From the story I will pick a few themes which I want to capture as part of the fragrance. In the fragrance Hive Mind, for example, I wanted to capture the idea of a beehive at the height of summer; the key elements for me were the honey and beeswax, of course, but also the scent of the flowers on the breeze, and the hive itself made of cedarwood. From here, I create a 'sketch' in scent of what those different elements might look like, choosing a few key materials which I think will contribute to the whole. I'm less concerned with balancing them perfectly, more about seeing how things will work together and where there might be gaps. In this instance, the fragrance lacked the lift and brightness that I wanted to convey, so I opted to include an allusion to the Queen Bee's pheromone (which smells like lemongrass!), plus a little ginger to add a sting. Once the framework is there, I work to balance the different elements together to create a cohesive fragrance which works both functionally and in line with the overall vision. Only then can you go through the process of safety testing, stability testing, cosmetic certification, packaging design etc. etc. The list goes on! Unfortunately, even if the fragrance is 'perfect', if it doesn't pass your testing, or doesn't do what you would expect on the skin, it's back to the drawing board!
SGB: Is there a part of the process you enjoy the most?
Kyle: I think there is a moment in the fragrance development cycle where the idea really starts to come together and the different parts of the story start to click together to a cohesive 'whole', that is a really nice moment. Sometimes it happens quite quickly, other times it can take months of trials to get there. That, or the first time printing a new bottle cap design and seeing the full bottle design come to life!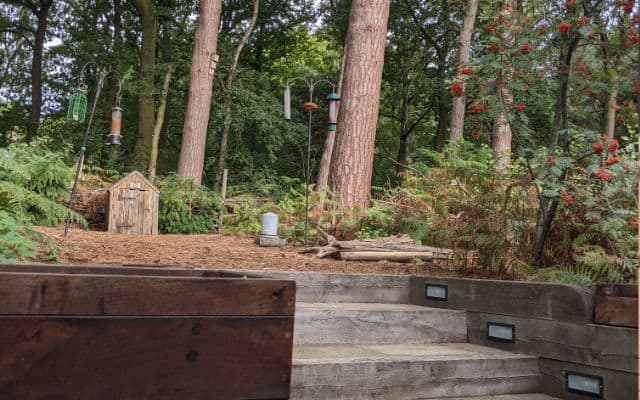 SGB: Quality is important to SGB in everything we purvey, what makes Redolescent fragrances special?
Kyle: There is attention to detail across every step of the journey! Each product is designed to be more than just the scent itself; the product includes high quality packaging also made within the UK, the sculptural caps are individually 3d printed with micron level precision and the fragrance itself uses a blend of high quality natural materials, along with other supporting molecules, to create a rounded, luxury, experience!
SGB: Niche perfumes seem to be growing in popularity, is there a reason for this?
Kyle: I think people are being afforded the opportunity (through social media, or otherwise) to be exposed to the joy that is niche perfumery. There is so much creativity and passion among the community which is finally getting the exposure it deserves. I think people are becoming more supportive of local craftsmanship, too. There is a growing appreciation for things which are a bit more unique and can define a personal style. All of these factors together create the right environment for niche perfumery to thrive!
SGB: Can you tell SGB about the workshop/perfumery you craft your fragrances in?
Kyle: I'm fortunate to have a studio space which is situated as part of a 70 acre woodland park. The space itself is surrounded by old growth trees and plenty of wildlife! Inside I have a mixture of reclaimed furniture and my all important yellow CoSHH cupboard which contains all of my wonderful materials. Every time I open the cupboard, the room is filled with a cloud of aromas, from citruses to woods, florals to fruits! Dotted between my reclaimed furniture is my more modern lab equipment; scales, beakers, funnels & filters that let me execute my craft.
SGB: Scent is such a personal thing, do you have any advice on how to buy perfume that suits an individual?
Kyle: I think you should definitely take your time! Sample sample sample! Experiment with a few different fragrances, wear them over a few days and see what works well on you or how it makes you feel to wear it. Over time you will get to know which 'notes' or 'families' of perfumes you like the best - websites like Fragrantica can help you spot what you are smelling in things you already like, and you can try to find things to branch out from there. Oh, and don't listen too much to what the salespeople tell you!
SGB: Apart from your own fragrances do you have a favourite niche perfume you wish you had created?
Kyle: Night Flyer by Dr Ellen Covey of Olympic Orchids perfumes is an absolute masterpiece for me! A stroke of creative genius! I personally wear Ambar Del Sur by Carner Barcelona a lot, too.
SGB: What do you see for the future of niche fragrances?
Kyle: I think people will continue to be more inquisitive about what is actually in their perfumes, and there will be a continued trend towards exploring niche fragrances and developing your own personal style. I think the the environmental impacts of perfume will continue to be explored too, how can we farm materials more sustainably or how do we move away from materials which bioaccumulate? Ultimately, fragrance is a luxury product, we should strive to enjoy it as responsibly and sustainably as possible!
SGB: Is there anything exciting on the horizon for Redolescent that you can let SGB in on?
Kyle: There is another collection in the works, the idea is fully set, and 2 of the fragrances are designed. The new collection moves away from the autobiographical theme of the first, and will allow the exploration of completely different imagery and experiences. I can't wait for people to fall down the rabbit hole with that one!
Until then you can explore the current, very personal range of Eau de Parfum. Let your sensory imagination run wild. You could even try the full range with the sample collection by clicking here.