Shining a Light on British Design
A lamp, is a lamp, is a lamp unless of course it is an Anglepoise lamp. A modern miracle of balance and elegance. One-part industrial, one-part art deco. Authors, artists and students' have had their desks illuminated for over 80 years by this classic British design. Whilst they beavered deep into the night on a best seller or a master's thesis.
The story is one of serendipity. George Carwardine was an engineer that specialised in designing vehicle suspensions. He was fanatical about springs and suspensions. Even on his days off would tinker and potter around his workshop experimenting with springs. One day he created a spring (helical spring) that not only bent in all directions but would remain strong when straight. He persevered with his new found spring and realised it would make a wonderful lamp. He made a heavy base so the lamp wouldn't topple. And then created a shade to concentrate the beam onto the subject at hand. The arm was roughly based on the autonomy of the human arm. The shoulder being the base. The movable middle the elbow. And the lamp attachment the wrist.
At first Cawardine thought that it would be used in the industrial workspace and developed the first batch himself in Bath, Somerset. He applied for a patent of his 'Task Lamp' but his 'Equipoise' name was rejected as it was already a word. He came back with the 'Anglepoise' and a British design icon was born. It was also later known as the 'Blackout lamp' and was advertised as such during WWII as the lamp could be tilted downwards and its light focused on single point.
The rarest of all Anglepoise lamps has Carwardine Accessories Ltd stamped on the base. If you find one, please let Sir Gordon know. We would love one to go with our office collection, we have two early chrome versions of the 1227 and a multi-coloured modern Paul Smith Type 75.
Anyway, this is where the serendipity comes into play. Herbert Terry and Sons were and are a manufacturer of springs for all manor of products. Such as bicycle saddles, toaster racks and pen holders. They were based in Redditch although now based in Portsmouth and have been in business since 1855. Carwardine used Herbert Terry and Sons as a manufacturer of his suspensions and by chance discussed his lamp with them. And so, a beautiful engineering love affair began. Herbert Terry's engineers helped take the bulky 4 spring version that Carwardine developed into a 3-spring version for the domestic market.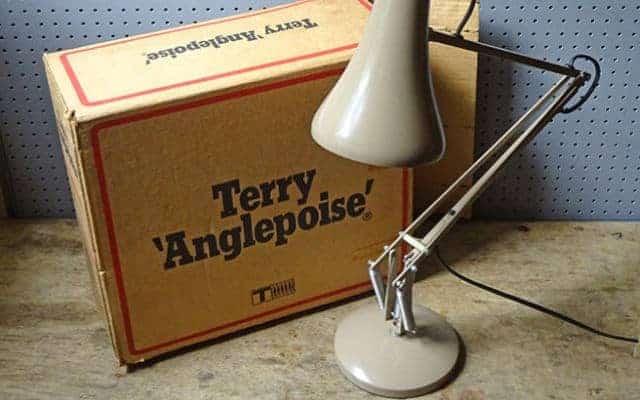 According to Simon Terry the great, great grandson of Herbert Terry 'there was a concern that women may catch their hair in the 4 springs'. What these women would be doing bending over so close to the mechanism baffles us, but there you go. This development though heralded the arrival of Original 1227 in 1935.
It is not often you can say there is a revolution in not only British design but the Original 1227 did just that. Spawning many copies the world over. Its inventive stable design was a massive hit across the country. Over time it has had minor adjustments and facelifts but the same principle that Carwardine and Terry built still remain.
So robust is the Anglepoise, that when American divers in 1986 were hunting the Loch Ness monster they came across a submerged WW2 Wellington bomber. They also found a Anglepoise. That Anglepoise had been specially designed for the aircraft and when fitted with a new battery it sprang back to life.
There are many people who loved the Anglepoise illuminating their work. Sir Arthur 'Bomber' Harris was often photographed at his desk plotting with his trusty Anglepoise. Roald Dahl will be forever remembered for using his Anglepoise. Sitting in his musty brown chair in his battered old garden shed. Igniting children's imaginations with tales of Charlie, the Twits and the BFG. To commemorate the Anglepoise's part in the Roald Dahl story, the Roald Dahl museum commissioned the first Giant 1227. Two more prototypes of the 1227 were created, one was sold to film director Tim Burton and the third was exhibited in the 100% Design Exhibition in London. The Giant 1227 ignited everyone's imagination and were so popular that it went in full production. One now even also stands in MoMa in New York.
The Anglepoise is lauded all over the world. And in 1986 it was immortalised in Pixar's first animated short 'Luxo Jr' and subsequently in their opening credits. The image of an anthropomorphic Anglepoise jumping and squeaking around on screen bought fame to the animation lab. Catapulting them off to become one of the great film studios of our time.
Not everyone though thought that the glow from a Anglepoise was an inspiring thing. Michael Standing, the then Head of Variety was asked in 1948 by the BBC create a Green Book. This book was to set the guiding moral principles for radio production at the BBC. In 1949 he issued an all staff memo that forbade the use of Anglepoise Lamps without overhead lighting on. He stoically believed that writing with only the light of an Anglepoise would make writers write furtive scripts that in turn would produce degenerate programs.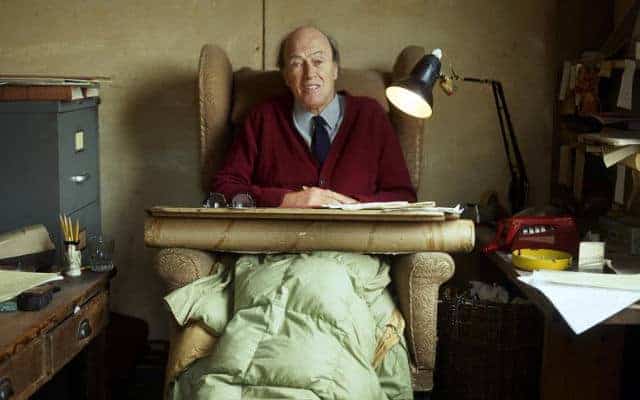 The iconic design and shape has been taken to heart by designers throughout the ages. Sir Kenneth Grange (of Intercity 125 fame) became the head of design at Paul Smith In 2003 and gave the Type 75 a modern twist. Whilst Margret Howell also added her special mark to this classic. It is held in such high esteem that it has even graced a British stamp. Illustrated on a sheet with other such iconic designs as the Mini, Concorde and the Penguin Book Covers . High regard indeed.
Unfortunately, manufacture of the all Anglepoise lamps, apart from the Giant 1227 has moved to China. Bringing an end, in British manufacturing terms at least, a true distinguished desk companion.
Design classics are hard to distinguish at the start but you can take a look at a few we believe will be below. Like AJOTO pens, Banton Frameworks Profile sunglasses and Stolen Form London Brick vases.